December 1st! I love this time of year, and I always have. My sweetest childhood memories are Christmas memories. The build-up, the hype, the reverence for the season are all embedded in my brain from those early years and have had a profound effect on who I am. I'm well known in my family as the Christmas enthusiast!
In a liturgical tradition, we celebrate this season as Advent. Our church doesn't follow this tradition, but we do at home. We recently visited a church that does observe Advent, and we truly appreciated the reverent way in which they approach it. It's not a count down to a worldly present-opening event, but instead, this is how the season was described in their bulletin:
"The church year begins anew with the first Sunday of "Advent", a word that suggests "approach" or "coming near". It is thus a season of anticipation and preparation of the Lord's drawing near to us, God's mission, his coming into the world to seek and save his people."
The bulletin also mentioned the wisdom of shifting emphasis of worship and prayer during different phases of the year, and using the narrative of the Gospel as the guide for this emphasis. There was explanation of how this helps us "rehearse" the great works of God in redemption - I love that!
So, I'm ready to launch into this lovely season and I'm thinking that I'll chronicle our progress towards December 25th, and take a look at how well we do at keeping our focus on the real meaning of this season, while still enjoying the worldly traditions that have sprung up over time. We believe that these do not have to be mutually exclusive, but we certainly respect the many varying opinions of our family and friends on this subject, and we would never attempt to prove one approach over another. So here we go!
Dec. 1st:
1. We have our outside decorations up, and all parts are on timers this year - yeah! No tiptoeing out into the frigid night to turn off the wreath!
2. We celebrated the first Sunday of Advent at a church service this past Sunday, and we'll soon have our own Advent wreath on the table at home. It's a wonderful way to focus our daily Bible reading and reflection, and we did this with our daughter from a very early age, right up until she left the nest.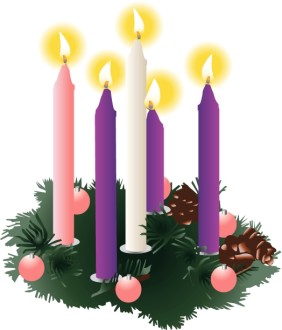 3. I ordered fresh evergreen and candle centerpieces from
L.L. Bean
for my parents this year, and those have been delivered as of today. I've always secretly wished to have one of those little luxuries delivered to me, so that's why I did it for them - the old give a gift you'd like to receive philosophy!
4. We sent my brother and sister-in-law home from their Iowa Thanksgiving, with their Christmas gift of rhubarb jam and a CD of a wonderful book called
"The 5000 Year Leap: A Miracle That Changed the World"
. I'm letting the cat out of bag a little here, but my other siblings will be getting one from us too! We came across this book at a recent conference we attended, and it's a combination of U.S. history and God's incredible grace in this country - really inspiring!
5. I do have a good start on our own Christmas gift shopping, thanks to the internet and free shipping offers! We each get three gifts, in memory of gold, frankincense, and myrrh given to the Christ child. Today I hope to look over the list and see what further progress I can make. I love the whole process!
6. And finally, my husband and I have been reading Glenn Beck's
The Christmas Sweater
. It's a wonderful book and we're really enjoying it. It's been setting the mood for the coming holiday!
Hope the holiday spirit has bitten you and that you're on your way too!